By uniting together in our union, SEIU Virginia 512, we can win the changes we need to care for ourselves, our families and our communities. Learn more about the "Union Difference."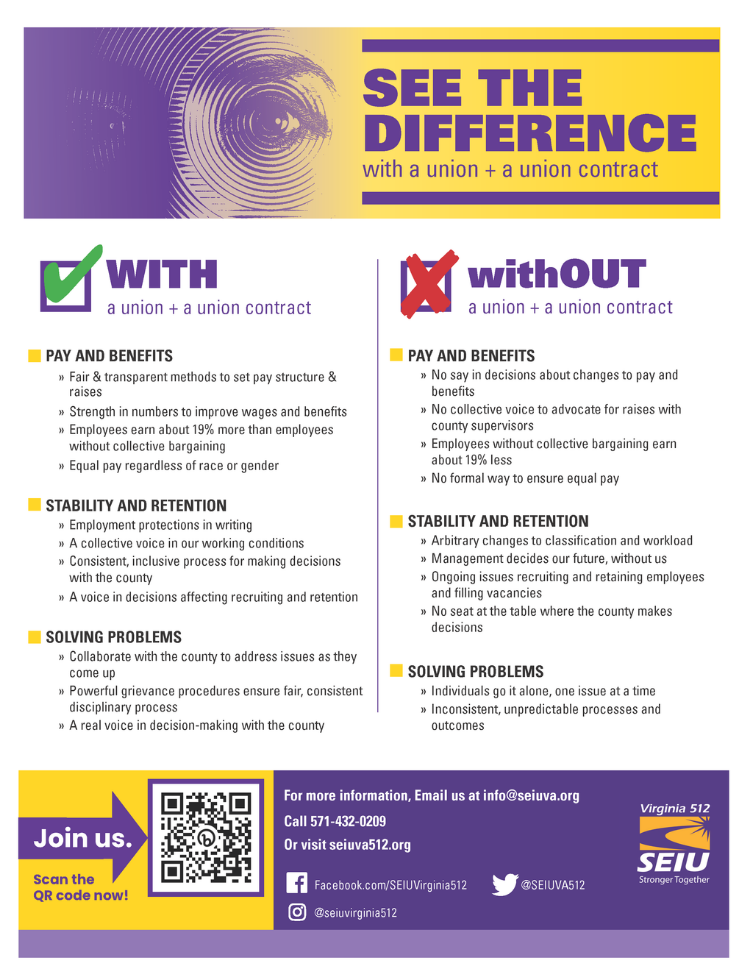 By standing united in our union, we can win the changes we need. Find out how.
Get the facts! Frequently asked questions.
Q) What is collective bargaining?
Collective bargaining is the process by which county and city workers, united in our union, sit down with management to negotiate a binding contract ("collective bargaining agreement") that covers wages, benefits, and working conditions.
Q) In Fairfax and Loudoun counties we have built our union, SEIU Virginia 512. We have also had some important wins over the last few years. Why do we need the right to bargain a union contract?
County workers, united in SEIU Virginia 512, have successfully advocated for important improvements to our working conditions. However, so far, counties have had no obligation to actually listen to county workers. For two years, Fairfax County has promised to fund our wage scale for general county employees -- and for 2 years they have broken that promise. We don't want any more broken promises -- we want those promises locked into a binding contract. Additionally, the county makes decisions that impact workers' lives without even consulting us. Collective bargaining means we will be able to impact decisions and those decisions get locked in in a binding contract.
On May 1, 2021, Virginia made history when the ban on collective bargaining for local government workers ended. Today, Virginia's county and city workers finally have the opportunity to have the same rights and freedoms that tens of millions of employees in 47 states already have: a real voice on the job through collective bargaining.
Q) What are some of the new rights that employees will have under the collective bargaining ordinance?
With the collective bargaining ordinance, county employees will now have the ability to negotiate a legally binding contract with the county covering our wages, benefits and working conditions. Our contract will also include a process for resolving disputes. This ordinance means that for the first time we will have a real seat at the table when it comes to important decisions that impact our jobs.
Q) How can collective bargaining improve services for the communities we serve and working conditions for staff?
For county and city workers in Virginia, we can win big improvements and lock in those gains by joining together as a union and using our strength in numbers to negotiate a contract with the county. That's the only way we will have a real seat at the table when it comes to important decisions that impact our jobs, our pay, the cost of healthcare, and the security of our pensions.
Collective bargaining can also benefit the public in a number of ways:
Helps ensure tools, training and adequate staffing we need to provide the services our communities deserve.
Retain staff and reduce turnover - Along with improvements in compensation, representation for workers improves our voice at work. A number of studies show that these factors lead to improved retention among union-represented workers, avoiding the significant costs associated with employee turnover.
Safer workplaces - Research suggests that union workers are more likely to report safety issues, injuries and near misses without fear of retribution. Worker advocacy has been life-saving in the current pandemic, as unions have won access to safety measures, including Personal Protective Equipment (PPE) which protect themselves, their families and others.
Q) What is the process and timeline for getting to a collective bargaining agreement/union contract?
First, we need to finish negotiations with the county around the content of the ordinance.
Second, the County Board of Supervisors will have to vote on draft ordinances and put them out for public comment. County employees have signed petitions and met with supervisors to voice our opinions about what should be included in the ordinance.
Third, passing the ordinance will give us the right to file for a union election that certifies SEIU Virginia 512 as the representative of general county employees and allows us to go to the bargaining table
Finally, after members determine our priorities for the contract, we will craft proposals and then sit down with the county to negotiate the contract. When we reach an agreement -- members will be able to vote on the contract.
Q) What exactly is/can be on the table for collective bargaining?
Our union bargains over wages, benefits, and working conditions. This covers a wide range of issues, such as: pay scales and salaries, health insurance, retirement benefits, workplace health and safety, protections against discrimination and harassment, staffing levels, hiring and promotion practices, job security and discipline, scheduling, and more.